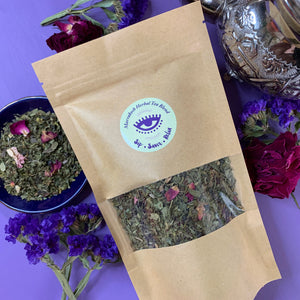 I See You • Wellness
"Marrakech" Herbal Tea Blend
Sale price Price $16.00 Regular price
If you have visited Morocco, then you know that Moroccan Tea is a huge part of our culture and lifestyle. Growing up, we would sip tea throughout the day and with every meal. Tea would keep us cool and hydrated in hot summer months, warm during winter months and help us digest food better in between meals. 
Our Marrakech Tea Blend is a special family recipe combining herbs, flowers and gunpowder green tea hand mixed with intention. 
Many of the ingredients are imported from Morocco to ensure authenticity... we believe the land in which herbs grow matter a lot in herbal medicine.
The best part is... we added Stevia Leaf so you can go ahead and skip the sugar altogether. Or add extra sugar if you like, we're not judging!
This blend comes with 5 ready-to-use tea bags. Size shown is 3oz pouch.
Pro tips/how to brew:

Use 1 teaspoon per cup for a lighter tea
Use 1 tablespoon per cup for a darker tea
Add boiling water and let it steep for 7-10mins
You can also boil the herbs directly on your stove for 3-5 minutes
This blend can be used iced as well, just place it in the fridge for 1-2 hours
I'd recommend you keep the tea bag in your cup as you sip
I'd recommend you make a large quantity and place it in a thermos (or Moroccan Tea Pot, if you're feeling fancy) and sip smaller doses throughout the day.

This blend contains:
Spearmint
Gunpowder Green Tea
Lemon Verbena

Sage
Rosa Damascene

Stevia Leaf

All orders come with an affirmation card, chosen intuitively just for you.
All products are plant-based, handmade
& Reiki charged.