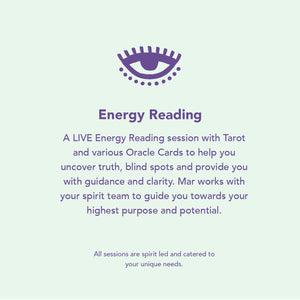 I See You • Wellness
Energy Reading & Guidance (Via Zoom)
Sale price Price $144.00 Regular price
*If you're a Sanctuary Member, you can request a 1 on 1 session by emailing Mar: iseeyou.wellness@gmail.com*
This session is designed for you to access answers, insights and guidance into specific areas of your life. It is a safe space for you to release, ask questions and inquire about your path or anything you want more clarity and guidance on.

This is an energy reading where we'll use a variety of oracle and tarot cards to uncover answers and guidance. Mar will use her experience in energy as well as divination and channeling to provide guidance, reassurance and the confirmations you need to align and keep going in your path. 
Whether you need help, guidance, reassurance, a space to process your feelings or a specific question answered, this session will always be catered to you and your needs and is 100% spirit-led.
Most importantly, you are your own healer and Mar is dedicated to helping you see your potential and rise up to your power. She is here to serve you, raise your vibrations and be a clear channel for your growth and expansion. 
Important Booking info:
Readings will be conducted via ZOOM. 
The session can be recorded upon request.
PLEASE READ: Please book/pay for your session on this website then I'll reach out to you with the Zoom link. Your session will take place LIVE at the time mentioned above.