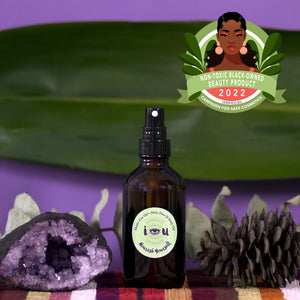 I See You • Wellness
"Nourish Yourself" Nourishing Multi-Use Oil
Sale price Price $20.00 Regular price
"Nourish Yourself" is a truly magical oil that nourishes your skin without leaving it greasy or sticky—your skin will absorb it within seconds. 
Its 7 essential oil blend (our own recipe)  helps your skin glow and heal while giving you a grounding and refreshing feeling. The combination of essential oils in it corresponds to your 7 chakras and help raise energy from your root to your crown,  making this oil grounding and uplifting at the same time!
HOW TO USE
This multi-use oil can be used on the face, body and hair. Use your intuition when deciding where it's needed best. When using, massage yourself with love and intention while visualizing "balance".
TIP
Use it at night before going to bed as a serum and wake up GLOWING.
Spritz with your daily moisturizer for an extra nourishing kick!
Spritz 4-5 times in your bath for a nourishing experience.
INGREDIENTS
Argan Oil, Avocado Oil, Sweet Almond Oil, Grapeseed Oil + Organic Essential Oils Blend. (2oz)
If you have any allergies to specific essential oils, please email us after you order and include your order number.
All orders come with one affirmation card, chosen intuitively just for you.
All products are plant-based, handmade
& Reiki infused.
*Contains Lavender Essential Oil and 6 other Essential Oils.
"Nourish Yourself" Multi-Use Oil made it onto The Campaign for Safe Cosmetics brand new list of 700 non-toxic Black beauty and personal care products made by Black-owned brands.