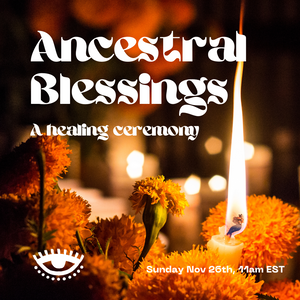 I See You • Wellness
Ancestral Healing Ceremony (Nov 26)
Sale price Price $22.00 Regular price
Join us for a beautiful gathering of remembering and honoring our ancestor through community and ceremony.
This space is open to all who seek a sacred space to heal as they honor their lineages. Adorn your altars and come ready to commune with your ancestors and guides and receive the blessings they have for you.
What to bring to this session:
A candle (white or red)
Pictures and/or names of your ancestors
Notebook, Pen, Crayons
Glass of water
Offering of your choice (spirit, coffee, tea, food...)
A few sliding scale spots are available for those who need them. Please book at the level you can afford.